ROOF REPAIRS & PREVENTATIVE MAINTENANCE
Roof Repair Service
Our Service Department is comprised of career personnel, each an expert at roof care, repair and maintenance. These craftsmen are divided into crews of two–a foreman and mechanic. Each crew is equipped with a service vehicle, completely outfitted with the latest tools and materials that are necessary, and is fully accessible by telephone.
We take roof leaks very seriously, and understand that they can be damaging to both business and property. That's why we offer our service twenty-four hours a day, seven days a week. Our customers enjoy a two-hour response time for emergency leaks; routine calls are responded to within forty-eight hours. For added responsiveness, multiple service crews are strategically located in various areas to better service immediate needs. Once you become our customer, we are literally at your disposal day and night.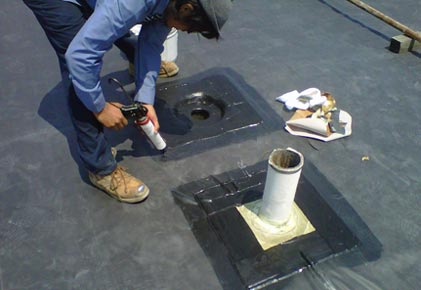 Preventive Maintenance
COURTESY MAINTENANCE: While on-site performing roof leak repairs, our crews observe the general condition of the roof in the vicinity of their work. They perform minor maintenance procedures, such as topping-off pitch pockets, and clearing leaves and debris from drains, for example. When extensive repairs are needed, a recommendation will be made for the owner's approval.
PREVENTIVE MAINTENANCE: You may also request a preventive maintenance evaluation. Upon request, an estimator will visit your property to survey the roof and determine its condition. If restoration is deemed practical, the visit will be followed by a proposal containing a list of recommended repairs that are necessary to rejuvenate your existing roof. In many cases, preventive maintenance work has proven to add several years of serviceable life to roofs that were practically ready for replacement.